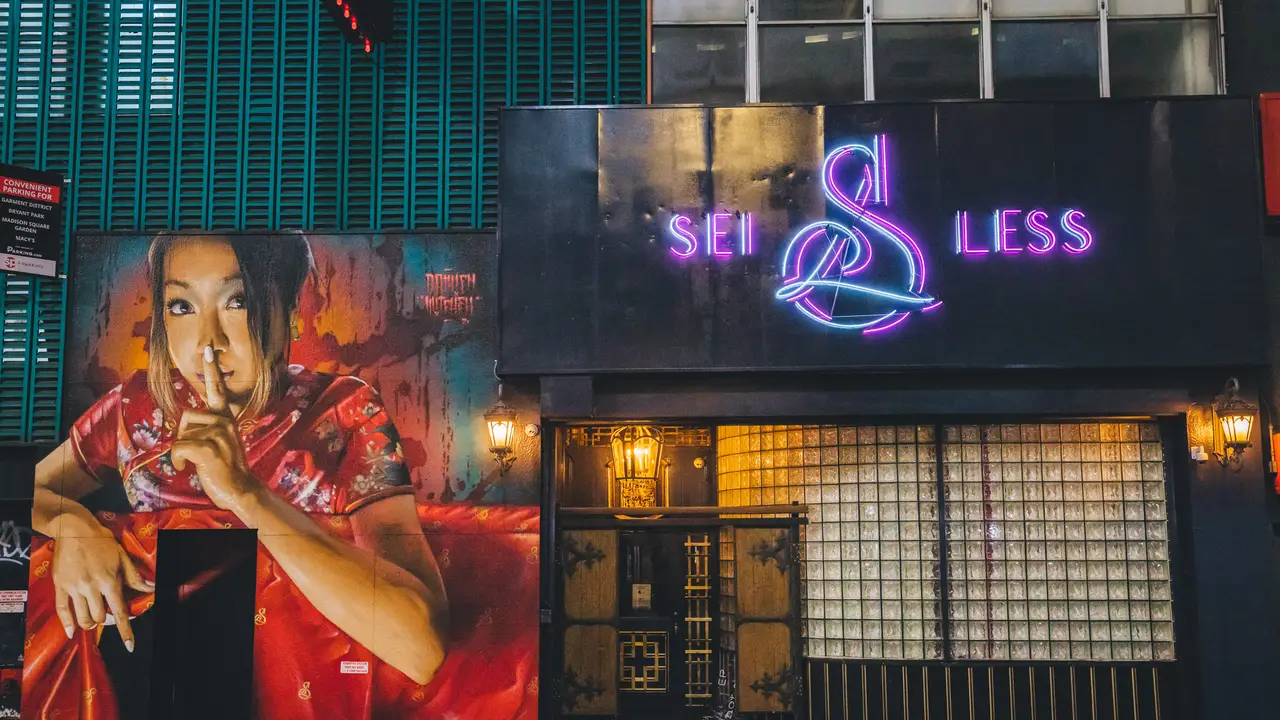 Make a reservation
Order delivery or takeout
Additional information
Dining style

Casual Elegant

Cuisines

Chinese, Asian, Pan-Asian

Hours of Operation

Mon–Thu 12:00 pm–12:00 am Fri 12:00 pm–1:00 am Sat 3:00 pm–1:00 am Sun 3:00 pm–12:00 am

Phone number

(212) 586-2675

Payment Options

AMEX, Discover, Mastercard, Visa

Owned/operated by

Asian & Pacific Islander, Black, Indigenous, Latinx or Hispanic, LGBTQ, Middle Eastern, Persons with Disabilities, South Asian, Veteran, Women

Catering

For catering requests please email ivi@seiless.com

Private party facilities

Sei Less has private dinning rooms that can accommodate 8 - 300 guests. Please fill out the form on out website for additional information. www.seiless.com
Neighbourhood

Flower District

Cross Street

38th Street Between 7th Avenue & Broadway

Public Transit

Subway Stops Near Sei Less - 1, 2, 3, 7, A, C, E, N, Q, R, W, S

Additional

Bar/Lounge, Beer, Chef's Table, Cocktails, Corkage Fee, Counter Seating, Delivery, Entertainment, Full Bar, Gluten-free Options, Late Night, Non-Smoking, Private Room, Takeout, Vegan, Wheelchair Access, Wine
What 932 people are saying
Overall ratings and reviews
Reviews can only be made by diners who have eaten at this restaurant
4.5 based on recent ratings
4.5

Food

4.6

Service

4.6

Ambience

4.1

Value
OT

OpenTable Diner

New York Area

overall

5

food

5

service

5

ambience

5




OT

OpenTable Diner

New York Area

overall

3

food

3

service

4

ambience

5




OT

OpenTable Diner

New York Area

overall

5

food

5

service

5

ambience

5




OT

OpenTable Diner

Washington DC

overall

2

food

1

service

2

ambience

2




overall

5

food

5

service

5

ambience

5




OT

OpenTable Diner

New York Area

overall

5

food

5

service

5

ambience

5




overall

3

food

4

service

4

ambience

5




p

proudwineaux

New York Area

overall

5

food

5

service

5

ambience

5




OT

OpenTable Diner

New York Area

vip

Dined on November 26, 2023

overall

1

food

4

service

1

ambience

4




OT

OpenTable Diner

New York Area

Dined on November 26, 2023

overall

5

food

5

service

5

ambience

5




Sei LessResponded 6 days ago




OT

OpenTable Diner

New York Area

Dined on November 26, 2023

overall

5

food

5

service

5

ambience

5




Sei LessResponded 6 days ago




Dined on November 26, 2023

overall

3

food

5

service

5

ambience

4




Dined on November 25, 2023

overall

3

food

4

service

2

ambience

4




Dined on November 20, 2023

overall

5

food

5

service

5

ambience

5




Sei LessResponded 6 days ago




OT

OpenTable Diner

New York Area

Dined on November 19, 2023

overall

4

food

5

service

5

ambience

5




Dined on November 19, 2023

overall

5

food

5

service

5

ambience

5




Sei LessResponded 6 days ago




OT

OpenTable Diner

New York Area

Dined on November 19, 2023

overall

5

food

5

service

5

ambience

4




Sei LessResponded 6 days ago




Dined on November 19, 2023

overall

5

food

5

service

5

ambience

5




Sei LessResponded 6 days ago




BB

BlueBrooklyn

New York Area

Dined on November 18, 2023

overall

5

food

5

service

5

ambience

5




Sei LessResponded 6 days ago




OT

OpenTable Diner

New York Area

vip

Dined on November 18, 2023

overall

5

food

5

service

5

ambience

5




Sei LessResponded 6 days ago




OT

OpenTable Diner

New York Area

Dined on November 18, 2023

overall

5

food

5

service

5

ambience

5




Sei LessResponded 6 days ago




Dined on November 18, 2023

overall

4

food

4

service

4

ambience

5




Sei LessResponded 6 days ago




Dined on November 17, 2023

overall

5

food

5

service

3

ambience

5




MF

MissFoodie

New York Area

vip

Dined on November 14, 2023

overall

4

food

4

service

4

ambience

4




Sei LessResponded 6 days ago




Dined on November 13, 2023

overall

4

food

4

service

5

ambience

4




Sei LessResponded on November 14, 2023




Dined on November 12, 2023

overall

2

food

3

service

2

ambience

3




OT

OpenTable Diner

Philadelphia

Dined on November 11, 2023

overall

5

food

5

service

5

ambience

5




Sei LessResponded on November 14, 2023




Dined on November 11, 2023

overall

3

food

3

service

3

ambience

3




Dined on November 10, 2023

overall

5

food

1

service

5

ambience

5




Dined on November 9, 2023

overall

5

food

5

service

5

ambience

5




Sei LessResponded on November 14, 2023




Dined on November 6, 2023

overall

4

food

5

service

5

ambience

5




Sei LessResponded on November 14, 2023




OT

OpenTable Diner

New York Area

Dined on November 6, 2023

overall

5

food

5

service

5

ambience

5




Sei LessResponded on November 14, 2023




OT

OpenTable Diner

New York Area

Dined on November 5, 2023

overall

5

food

5

service

5

ambience

5




Dined on November 5, 2023

overall

5

food

5

service

3

ambience

5




Sei LessResponded on November 14, 2023




Dined on November 5, 2023

overall

5

food

5

service

5

ambience

5




Sei LessResponded on November 14, 2023




TP

TrePaper

Philadelphia

vip

Dined on November 4, 2023

overall

5

food

5

service

5

ambience

5




Sei LessResponded on November 14, 2023




Dined on November 4, 2023

overall

3

food

4

service

5

ambience

4




OT

OpenTable Diner

Philadelphia

Dined on November 3, 2023

overall

2

food

3

service

3

ambience

1




Dined on November 2, 2023

overall

5

food

5

service

5

ambience

5




Dined on October 31, 2023

overall

5

food

5

service

5

ambience

5




Sei LessResponded on November 14, 2023



FAQs
Sei Less does offer delivery in partnership with Postmates and Uber Eats. Sei Less also offers takeout which you can order by calling the restaurant at (212) 586-2675.
Sei Less is rated 4.5 stars by 932 OpenTable diners.
Yes, you can generally book this restaurant by choosing the date, time and party size on OpenTable.
Make a reservation
Order delivery or takeout
Additional information
Cross Street

38th Street Between 7th Avenue & Broadway

Neighbourhood

Flower District

Hours of Operation

Mon–Thu 12:00 pm–12:00 am Fri 12:00 pm–1:00 am Sat 3:00 pm–1:00 am Sun 3:00 pm–12:00 am

Cuisines

Chinese, Asian, Pan-Asian

Dining style

Casual Elegant

Public Transit

Subway Stops Near Sei Less - 1, 2, 3, 7, A, C, E, N, Q, R, W, S

Payment Options

AMEX, Discover, Mastercard, Visa

Owned/operated by

Asian & Pacific Islander, Black, Indigenous, Latinx or Hispanic, LGBTQ, Middle Eastern, Persons with Disabilities, South Asian, Veteran, Women

Additional

Bar/Lounge, Beer, Chef's Table, Cocktails, Corkage Fee, Counter Seating, Delivery, Entertainment, Full Bar, Gluten-free Options, Late Night, Non-Smoking, Private Room, Takeout, Vegan, Wheelchair Access, Wine
Phone number

(212) 586-2675

Catering

For catering requests please email ivi@seiless.com

Private party facilities

Sei Less has private dinning rooms that can accommodate 8 - 300 guests. Please fill out the form on out website for additional information. www.seiless.com